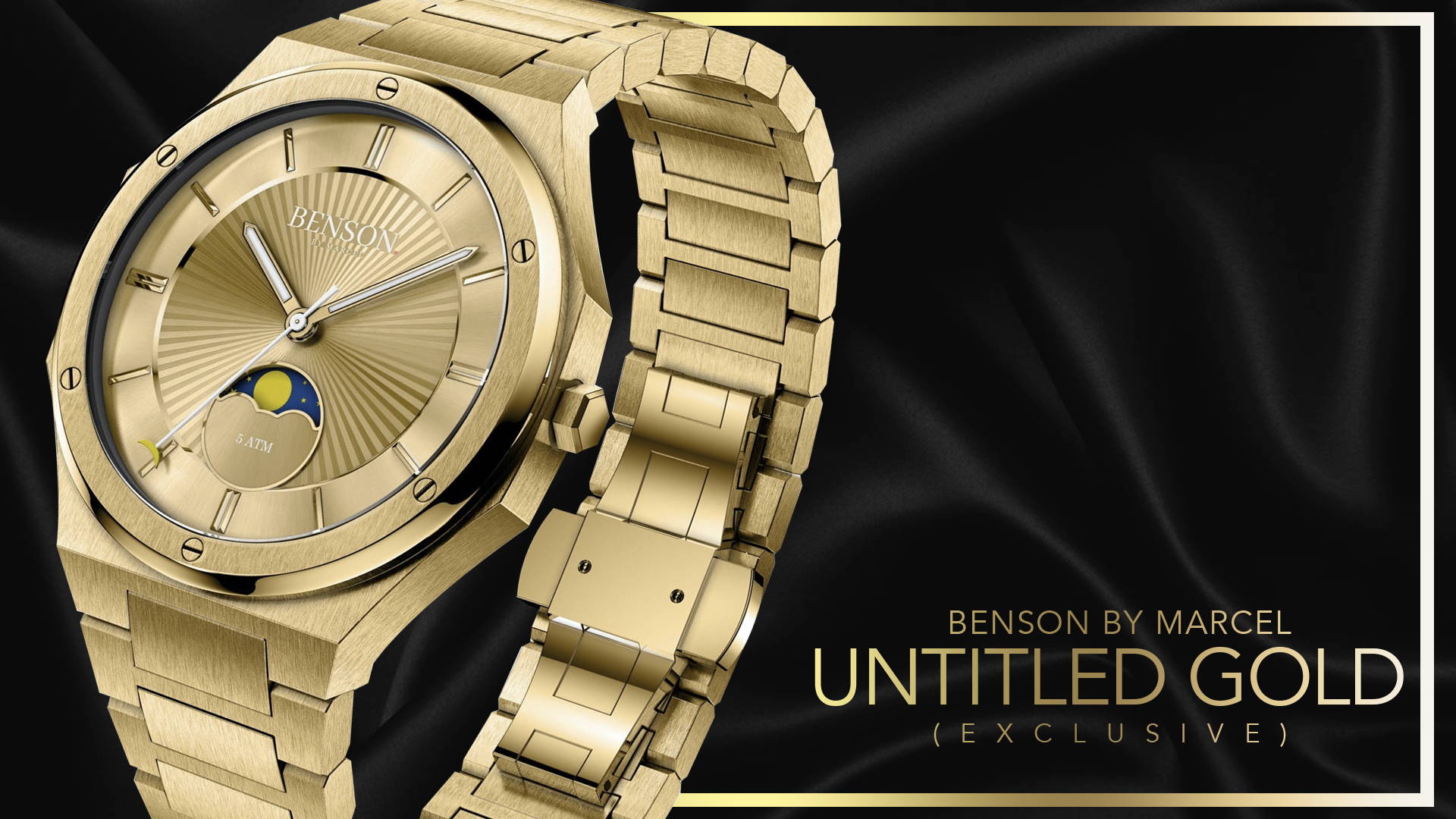 Treat yourself to our exclusive and limited watch inspired by beauty. Simple, classic, and versatile.
The watch that everyone has been waiting for is now here! Enjoy this beautiful piece. This once in a lifetime opportunity will go fast! Good luck!
Description
Benson by Marcel is introducing the highly anticipated Untitled Gold boasting of a swiss quartz Moonphase movement which sits in a gold toned steel case and linked band. The circular crown easily adjusts time and moonphase function at 6'oclockwhich tracks the 29.5 phases of the moon. This carefully crafted gold toned enamel dial with spiral fan design, gold toned hands with illuminated strips make this piece a stand out! This bold piece will surely stir up conversation wherever you go!
Dimensions
316 L Steel link band, measuring 22 x 18mm.
Water-resistant up to 5 ATM (approx. 30 meters/100 feet).
*The watch can be used in humid conditions and swimming.*
Exclusivity
The Untitled Gold is our 2nd collection of Benson's Exclusive Drops. This collection has exactly 300 carefully crafted pieces. However 88 have been reserved for previous investors. So, only 212 of these will be sold. These pieces not only provide the opportunity to have something unique and rare, we believe there may be an opportunity for you in a secondary market to sell at your leisure as the demand for the piece will increase. Once the collection is sold out we will no longer make them. We have limited the purchase quantity to 2 per person to give opportunity to other customers.